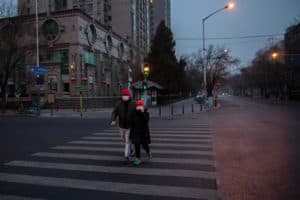 China's State Council officially announced on Monday that the Lunar New Year / Spring Festival holiday will be extended to 2nd February across the country.
The holiday week was originally from January 24th to 30th January. (The official notification can be accessed here).
However, Shanghai has announced that all enterprises will remain closed till 9th February. (See official notification from the Shanghai municipal government here)
Similarly, Zhejiang Province announced it is delaying return to work and school to 9th February. (See official announcement here)
Guangdong Province also announced Tuesday evening that it will delay resumption of work and school to after 9th February and February 17th-24th, respectively. (See official announcement here)
The move to extend the New Year break has been expected as government and healthcare authorities double down on efforts to contain the Novel Coronavirus outbreak by restricting public movement and large gatherings.
There have been cases reported in all 60 provinces in China and around the world, with 106 people reported to have died as of this morning, and close to 4,200 reported cases.
Hence, our China and Hong Kong offices will resume normal operation as below.
| | |
| --- | --- |
| Office | Resume Operation Date |
| Chongqing | 3 Feb 2020 Mon |
| Dalian | 3 Feb 2020 Mon |
| Fuzhou | 3 Feb 2020 Mon |
| Hong Kong | 3 Feb 2020 Mon (for HK Public Holiday is 29 Jan 2020) |
| Ningbo | 10 Feb 2020 Mon |
| Nanjing | 10 Feb 2020 Mon |
| Qingdao | 3 Feb 2020 Mon |
| Shanghai | 10 Feb 2020 Mon |
| Shenzhen | 10 Feb 2020 Mon |
| Tianjin | 3 Feb 2020 Mon |
| Wuhan | Work at home until further notice from local Government |
| Xiamen | 3 Feb 2020 Mon |
| Zhongshan | 10 Feb 2020 Mon |
There have already been immediate global impacts, which includes general falls in the United States and Australian stock markets.
However, there are a number of possible impacts on trade and the industry which implements that trade.
Some examples of the impact of the current "Coronavirus" can be summarised as follows:
There are likely to be additional biosecurity measures at the airports adding to travel times which will apply to all travellers. Crew on ships originating in China or passing through affected areas may be confined to quarters. Those biosecurity measures may then extend to goods originating from China if it believes that those goods may somehow have been infected.
The extension to the "Lunar New Year" will further extend the "low season" conditions in sea freight and may well further delay shipments of goods to Australia. That may affect the manufacturing industry needing Chinese inputs to manufacture or affect those awaiting ordered finished products, especially consumers or retailers.
There is bound to be a significant impact on travel between Australia and China. Not only will this affect tourism and the provision of education for Chinese students in Australia. The likely reduction in air services may also have an unexpected effect on Airfreight shipping. It is less known that during the cancellation of air services during an Icelandic volcanic event years ago, the shipping trade was held up as original bills of lading, which usually were moved by air services were delayed at point of origin. Of course, with the reliance on such original bills of lading, containers and other goods could not be unloaded.
The most immediate impact is in Wuhan, the capital of the Hubei province which could amplify the wider effect in China as it is one of the country's main manufacturing, transport and logistics centres. The effect on the wider economy could be very damaging with production and supply chains being affected throughout China and therefore throughout the world.
The extent of the wider effect is currently hard to calculate.  While there is a larger world economy and more personal international travel than at the time of SARS, it appears that medical intervention here and overseas may be quicker and more sophisticated. However, unlike 2003, the services economy is now a major part of the Chinese and Hong Kong economies, so the inability to move people will have a bigger impact than before.
 Australian suppliers to Chinese customers may find demand for their goods and services reduced by the combined effect of the "phase one agreement" with the US and reduced domestic demand in China.
We expect to start to see adverse impacts in the near future, and wish to warn our clients, customers and others in the supply chain, that things may take time to recover, and some immediate impacts will be shipments arriving into Australia without prior documentation or Telex Releases/Original Bill of Ladings being received to date.
We will be monitoring and notifying any customers regarding delays this may cause to vessels, and/or container retrievals/deliveries at each location, which will impact shipment deliveries.
Should there be any further information required, please do not hesitate to contact us on 1300 814 743, or e-mail cs@salglobal.com.au.